---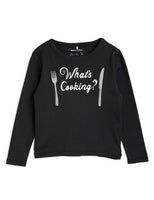 Black long sleeve T-shirt with a What's Cooking print on the chest, made from 100 % GOTS certified organic cotton.
• What's Cooking print
• Binding at neck
• 100 % Organic Cotton
• Made in Turkey
• SKU 2372018760
This garment is produced in a factory that is part of Mini Rodini's living wage project. Instead of paying the workers just the minimum, which is almost impossible to live on, we pay a wage that is high enough to maintain a normal standard of living.
Since we are working with products that are mainly used by children, the control of chemical use is of the utmost importance to us. This garment is GOTS certified – the strictest certification for organic materials on the market today, which involves rigid controls throughout the entire manufacturing process, including chemical use and working conditions.
Certification: GOTS
Label grade: Organic
Certified by: Soil Association
License number: DK28238"
Styled for Green Hearts Pink! - AW23


This garment is produced in a factory that is part of Mini Rodini's living wage project. Instead of paying the workers just the minimum, which is almost impossible to live on, Mini Rodini pay a wage that is high enough to maintain a normal standard of living.

Since Mini Rodini are working with products that are mainly used by children, the control of chemical use is of the utmost importance to them. This garment is GOTS certified – the strictest certification for organic materials on the market today, which involves rigid controls throughout the entire manufacturing process, including chemical use and working conditions.

Certification: GOTS
Label grade: Organic
Certified by: Soil Association
License number: DK28238