---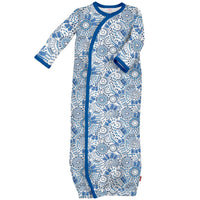 Gown, featuring time-saving Smart Close™ magnetic fasteners and no over-the-head design, will have newborns dressed in a jiffy while significantly reducing their exposure to the chilly air. Quick diaper access for frequent night changes makes life easier for new moms and dads. Gown can be worn under swaddle. Coordinating hat available.
• Makes your life easier!
• Smart Close™ magnetic technology gets baby
dressed
in seconds!
• Elastic bottom for added warmth and comfort
• Mitten cuffs to protect newborns from scratching
themselves
• 100% soft & gentle natural cotton
• Machine wash
• Great for new moms and dads during night
changings
• A baby shower gift your friends will love!